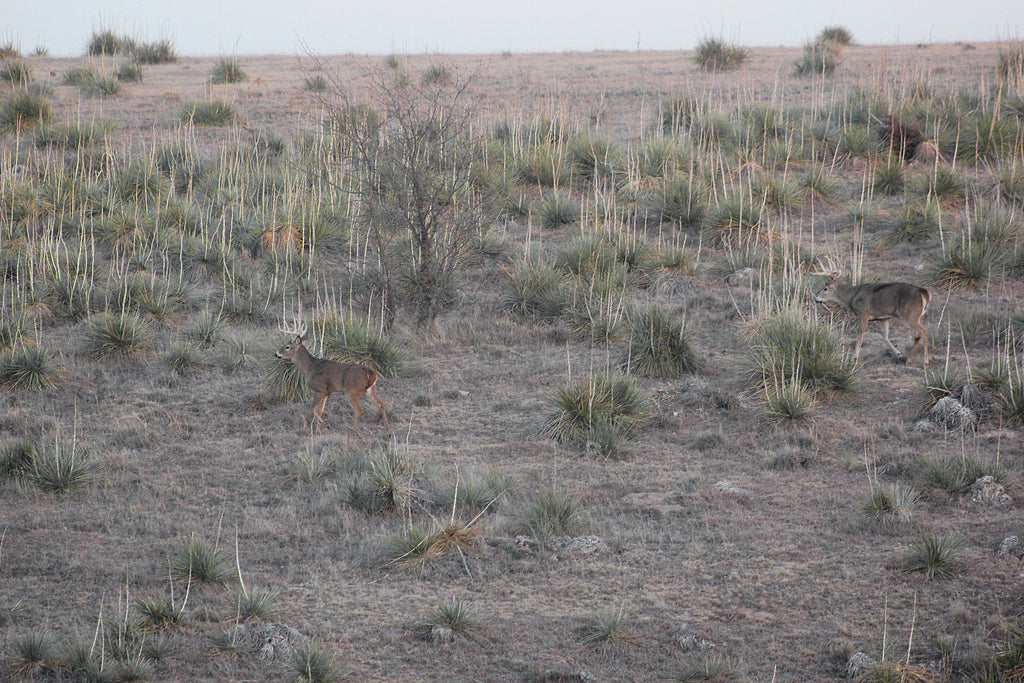 An Aggressive Game
Author Garrett Roe
A steady blood trail through the pasture provided a dose of optimism, but as the trail lead over another fence line a few hundred yards from the shot, doubts of a quick recovery continued. Peering ahead through my binoculars, I could see large amounts of blood on the cottonwood leaves, but no white belly or antler tips. These are the agonizing moments nearly every veteran bowhunter has experienced. Despite several more hours of daylight ahead and a steady blood trail, I elected to pull back and wait until the next day.
With all that has been published over the years, it is difficult for many to comprehend how a mature whitetail buck can be shot at close range often miles from any tree with little to no cover using an aggressive assault. Since 2010, harvested ag fields, CRP draws, brushy hidey holes, open cattle pastures, and traditional river bottoms have provided me with hair-raising whitetail bow hunting action that few have experienced.
By 2010, we had established decoying elk and muledeer with the partial body mobile decoy, but whitetails would be virgin territory. With the new whitetail buck decoy, we discussed among friends the idea of stalking and challenging our open country whitetails while they were cruising, chasing, and locked down during the November rut. On November 20th, 2010 an opportunity presented itself. Easing our way through the milo stubble towards the bedded buck, my partner, Kent, and I worked to get the light wind in our favor. The decoy was in hand and ready. Stalking undetected to 70 yards from the bedded buck, Kent held the decoy in front of us and grunted. We immediately drew the buck's attention. With visual contact made, the gnarly 7 point rose from his bed and without hesitation postured in. At 17 yards and closing, my arrow, entering slightly in front of the near shoulder, penetrated deep into the buck's chest. The massive buck fell in sight. In that pioneering moment, a new era of whitetail hunting began. Since that moment, I no longer need to rely on shooting a buck where I am. Using a highly mobile and portable dominant buck decoy to exploit a buck's extreme aggression during the rut, I can now shoot mature whitetail bucks where they are.
A whitetail buck follows a repetitive cycle during the rut involving searching, chasing, and isolating (locking down) does in estrus. For each step in the cycle, I have observed, and since 2010 participated in, a mid-western buck's desire to demonstrate his dominance towards another buck nearly every time an opportunity presents itself. For me, the 2016 Kansas archery season would be no different than the previous five: locate a mature buck searching, chasing, or locked down and challenge him.
Tips to Decoying Whitetails with Aggressive Tactics
Run and Bow: Post up near a large food sources right at first light. Once a mature buck working the area is located, move quickly without detection to intercept him. Once positioned as close as terrain and cover will allow, challenge him with the decoy. This approach can result in high numbers of close encounters with bucks. If you are not particular, this approach is a fun way to shoot a whitetail buck at close range on the ground. All shapes and sizes of bucks approach. Every square inch of property can produce. The size and color of the Heads Up Whitetail Buck Decoy antlers are important for visibility and dominance.
The "Blind Approach": Best utilized during the midday lull. Slip in next to small hidey-holes adjacent to typical whitetail country. Clamp or Bow Mount the buck decoy so it is clearly visible. Start with a series of grunts. I prefer a loud and low pitched grunt call for greater sound travel. If no immediate response, follow up with another series of grunts with an added snort wheeze. Pause a few moments scanning the terrain for movement. If nothing appears then hit the horns. I prefer heavy antlers to mimic large mature bucks. Sound from heavy horns travels greater distances. My best rattling results have come when I hit the antlers together as hard as I physically can. At any point in this set up, a buck can approach quickly. BE READY. This is a great way to hunt with a trusted partner and to break monotony. If your set up draws blanks, slip out as carefully as you slipped in. There is no harm done and move on to the next set up. Find these hidey-holes when shed hunting.
Tag Team: A trusted hunting partner is a great way to use aggressive hunting tactics, not only with the whitetail decoy, but with the entire line of Heads Up Decoys. Being able to plan, discuss, and assess what is being observed in the moment with a partner is an advantage. Heads Up Decoys are handheld by design. Having control of the decoy can neutralize adverse weather conditions that fall on days during the peak of bowhunting season. Do not let high winds discourage your hunt. Regardless of weather conditions, I find myself hunting more aggressive with a partner. In this set up, it is not unusual for the shooter to be in the hip pocket of his hunting partner holding the decoy. Trust and communication are important when the arrow can potentially travel past the ear of your partner. Regardless of weather conditions, we've had substantial success over the years tag teaming great bucks.
Making the Shot: Many shots are close with quartering-to angles on approaching animals. A posturing buck bearing down on your location will test the grit of the most experienced bowhunters. Control your emotions and focus on your shot placement. Quartering-to or frontal shots on deer at distances greater than 20 yards are not recommended. I recommend a high quality fixed blade or a sturdy hybrid type broadhead. Hybrid broadheads combine a fixed blade feature and a perpendicular expandable component. Large diameter expandables or flimsy 2 blade expandables where deflection, penetration, or construction can be an issue are not recommended. On a committed posturing buck, I let them close in tight and draw when I am ready to shoot. I have found that drawing early can lead to shooting too soon. Draw easy and do not rush. A committed posturing buck is not concerned with movement. The ground offers advantages to shot distance and accuracy. I am far more accurate on the ground and at much greater distances than from a tree. Only you can determine your effective range.
Be an Assassin: Locating a mature buck that has isolated and locked down a doe is an ideal set up. His desire to defend his prize is at its peak. This scenario is my personal favorite. Whether heading in solo or with a partner, plan your approach. Identify landmarks to map your way. Be advised that terrain and landmarks can be much different at eyelevel than when observed from afar. ONLY show the decoy at the point where you are as close as you can get without being so close as to startle the pair. Stomping in with the decoy fully displayed from 200 yards out only leads to failed stalks or long shot opportunities at alerted animals. Try to reach the 60-80 yard "bubble" undetected, but do not hesitate to show the decoy at greater distances if getting closer is not an option. Use the wind in your favor. Once in position, raise the decoy so it is easily seen and knock an arrow. Do not poke your head over the profile of the decoy. Peek from the side or from underneath. Offer a single grunt. One grunt may be all that is needed. If the buck does not stand or turn his head, grunt again and maybe offer a snort wheeze. When his head spins making visual contact with the intruder, he will see red and that is when the magic happens. He will pin his ears back, bristle his hair, and approach slowly swaying his head from side to side looking larger than life. I have personally found this to be the single best way to shoot a mature whitetail using an aggressive approach and one in which I have experienced not only in 2016, but many times in previous seasons for myself and others.
By all accounts, the 2016 Kansas rut was slow compared to previous years. Taking a break for lunch after an uneventful morning of searching for a mature buck, my friend David Gillan and I discussed our afternoon options. With several mature bucks seen on trail cameras, none of my tactics to locate or to draw those bucks out of hiding were producing results. Since 2010, I have spent about 80% of my time bowhunting whitetails in ag fields, CRP draws, and cattle pastures. It is not unusual for me to be several miles from the nearest tree. Prime areas for upland birds and coyotes. Seeing daylight action should not have been an issue.
I decided to make a detour to glass a pasture that turned up mature bucks for me in the past. The pasture slope was choked with yuccas and was a magnet for bedded bucks locked down with does. Its angle to the sun along with the dense yuccas provides isolation and a cozy spot on crisp November days. Although the current afternoon temps were near 80, it was worth a look.
As I slowed the truck to position the cab at our glassing point, David alerted me of a buck and doe standing in the waste ground some 300 yards from the road. I raised my binoculars and immediately located a buck I considered to be big. The buck was oblivious to our presence. Completely focused on his doe, the tall tined buck was frozen like a statue. Because the buck would not turn his head, we could only determine that some of his tines appeared to be long and good width.
I proceeded ahead to park the truck in a more hidden location. Our new vantage point allowed David and me to see that he indeed was a solid mature buck. My favorite scenario looked to be materializing. There was no reason to be in a hurry or to force anything. This mature buck had his doe isolated from competition. We patiently waited for the pair to settle into a permanent bedding spot for the day. At this point, the only concern was another buck cruising in to disturb them and spoil my opportunity.
The buck and doe were bedded in dense mare's tail. Marking the location the two were bedded, I knew in my mind that once in the same field setting up in good position with shooting lanes would be difficult. The wind, although light, was completely in my favor and just enough to cover my movement. Crawling proved to be much louder than crouching so I stayed on my feet only to crawl over the last terrace before settling into position. I had made it inside the "bubble" without detection.
Scanning ahead, I saw a small pocket where the weeds were mostly knee deep. It was where I anticipated my shot. The buck, if he committed to the set-up, would be on top of me. Making sure I had shooting lanes was a new problem, all my past set ups had barely any cover at all. Lying on my belly, I prepared my set up. I secured the decoy in the bow mount and pulled an arrow from my quiver. My grunt tube was easily accessible and ready. Raising my bow to display the decoy, I followed behind knocking my arrow. Sitting back on my heels, I settled into shooting position. I peeked ahead and to the side before letting out a loud grunt. Nothing. I followed with several more loud grunts. Using my mouth, I followed my grunt calls with a snort wheeze. The buck did not show himself.
Waiting a few moments, I felt the buck needed a nudge. I eased ahead a few yards essentially giving up most of my shooting lanes. In the process, the worst possible scenario transpired. I bumped the doe. She exploded out of the weeds on my right and bounded off. The buck stood from his bed looking for his doe and then peering at the intruder. With only his head visible, I estimated him to be 30 yards away. When the doe busts, the jig is usually up. However, the buck was not alerted. Unwilling to risk additional movement to grab my grunt tube, I let out a soft snort wheeze with my mouth. That TICKED him off. The buck blew me away with a snort wheeze! He licked his nose, lowered his head, and bristled his hair. He was COMING.
The angry buck was at 20 yards quickly and did not flinch when I drew my bow. Peering through my sight window, I searched for gaps in the mare's tail. Now bearing down on me at 15 yards, my pins drifted over the buck's chest in front of the near shoulder. I instinctively released the arrow. When the buck spun in retreat, I could see my arrow with half penetration and splattering blood lit up by the afternoon sun. The buck sped through the weeds and towards the adjacent pasture out of sight. My heart sunk knowing my shot was not ideal. With his head swaying particularly low, my arrow had slammed high in the neck.
David was observing from a ridge a few hundred yards away. We met where I took my shot. I discussed the shot placement and where I last saw the buck. With the dark weeds, taking up a blood trail near the shot was impossible. We weaved our way toward last visual and identified a surprisingly good blood trail a hundred yards from the shot. We easily followed the blood ahead through the grass only to see that the buck had jumped a fence into the adjacent pasture. A steady blood trail continued leading us to a small grove of cottonwoods with cedars growing at their base. Not wanting to risk bumping the deer, I looked ahead using my binoculars. I could see large pools of blood covering the leaves. The buck was nowhere to be found. Easing into the cottonwood grove, we could see a blood trail was heading directly for the creek. Hesitant to push ahead, we glassed the fringes of heavy cover along the creek bank. No white belly or antler tips. Despite having good blood and plenty of light left in the day, I made the decision to leave him for the night.
Joining David and I the next morning was my good friend, Kent. Picking up where we left off from the previous day, we soon found another area of massive blood loss. One track and one drop of blood leading away told us it could be a long day. Fortunately, several steps later, we found the buck partially submerged in the cold creek and completely intact. With a less than stellar shot placement, I credit a good broadhead to the recovery of this buck. The 2016 archery season was over and another great Kansas whitetail was taken using an aggressive decoying tactic.