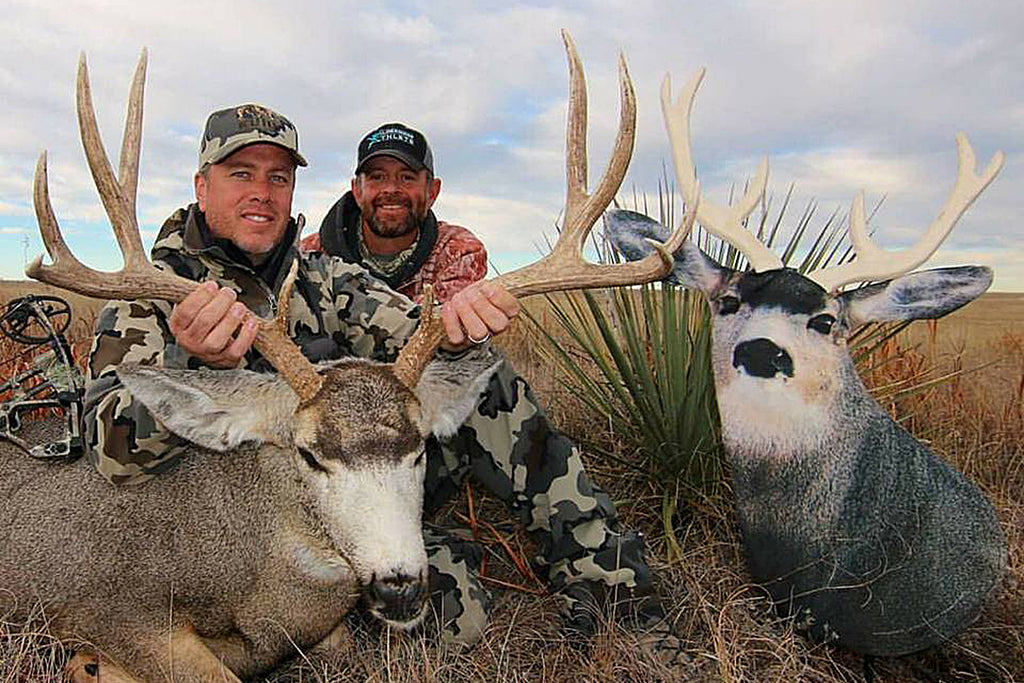 Patrick Montgomery has been using Heads Up Decoy since 2013. Patrick is an excellent and experienced bowhunter with a deep knowledge of big game behavior...a perfect match for Heads Up Decoy.
Since 2013, Patrick has consistently helped many hunters as well as has his own success using Heads Up Decoy. He particularly enjoys the Heads Up Mule Deer Buck Decoy. Patrick has this dance down. Here are his tips and advise for using the Heads Up Mule Deer Buck and Doe Decoys.
Many people have asked me if the Heads Up Decoy really works on mule deer as well as it does on whitetail, antelope, turkey, and elk? The answer is Absolutely! The proof is in the pictures. I have successfully used the mule deer decoys on numerous occasions to harvest trophy class bucks for my clients across the Eastern Plains of Colorado and have passed my experience on to several of my good friends who are now slaying mature bucks all across the West. They are not magic and deer don't just come running in every time you show them one, but used properly and at the right times it might seem like they are. Understanding mule deer behavior and having a good grip on basic stalking principles are first and foremost in being successful with your HUD. Here are a few of the situations in which I have been successful using the HUD on mule deer and how.
The first scenario is simply using them pre rut on bedded single bucks and bachelor groups of bucks. I try to stalk in as close as possible to a buck while it is bedded. I am not a fan of sitting close to a bedded buck, waiting for them to stand up on their own. More often then not the wind is going to switch and blow them out of there. I'd rather have control of the situation and stand them up after having come to full draw. Often times just coming to full draw with the decoy attached to the front of the bow is enough movement to get the buck to stand up relaxed and stand long enough to get smoked. If that doesn't do it, I will give a couple grunts with my mouth. If that doesn't work, I'll moo like a cow. The end result is that the buck stands up, stares, gets shot.
They say curiosity killed the cat. Well, it definitely kills the bucks also in the early season. Sometimes you just can't get close enough to a bedded buck or bucks. I'll get as close as I can then show them the buck decoy, sometimes you have to move it to get their attention. Once they see it, don't let them stare at it forever, make it slowly disappear like a buck bedding down. Maybe just letting the antlers stay visible. This seems to work better on bachelor groups of bucks. They all know each other and a new buck is someone to come check out.
My absolute favorite time and effective use of the HUD for mule deer is during the rut and at the very tail end of it, almost post rut. I feel like if I can stalk within 100 yards of a group of does with a mature buck running the show, I am 100% going to get him to come to within 20 yards to check me out. You have to break this 100 yard barrier in order for him to feel threatened enough to come for a fight. Sometimes 150 will do, but the closer the better. Use the buck Decoy, not the doe! You are challenging him like bugling at a bull. He already has ladies, you want him to come run you off. The only time I use the doe is when there are two people, put the doe on the shooters bow and the other person operates the buck decoy by hand. Sometimes you have to move them to stimulate interest.
The only time I use the doe by herself is on post rut bucks I call the "Wanderers". As the rut comes to an end you will see bucks all by themselves just lined out, wandering, look for one last chance to get some. These bucks are almost too easy and will come from hundreds of yards if you can get their attention. I try to stalk ahead of them then move out into the open crouching behind the decoy. I want to be as visible as possible. They will come.
I hope these tips help you all to be successful with your mule deer Heads Up Decoys. They have certainly revolutionized the way I hunt muley bucks.
Remember basic stalking principles are first and foremost, use the buck decoy, add some movement, don't let them stare at it forever before the rut. Good Luck! ~Patrick Montgomery
Thank you for reading. Please share our how to and testimonials.