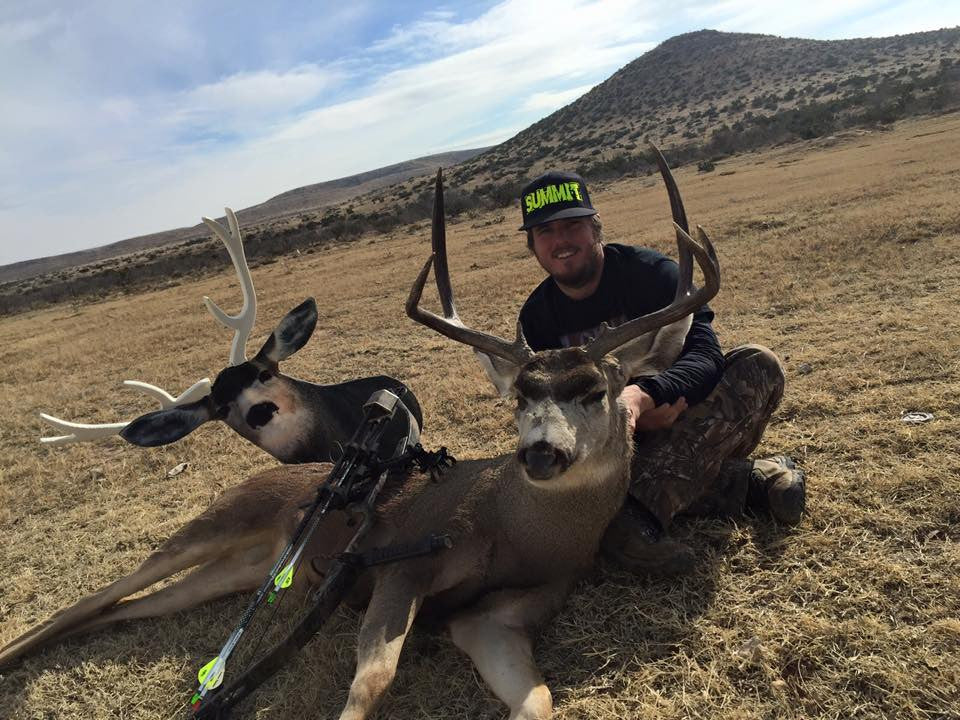 As the midwest rut comes to a close, many people forget or are not aware that the desert southwest is now the rutting hot spot for mule deer and coues. With plenty of public land and over-the-counter archery tags, it provides great bowhunting opportunity if you are willing to head south for the winter...or if you already live there. With the annual success rate of 3-7%, you'll be in for a challenge.
Photo Courtesy of Jon Yokley
December and January is prime time for states like Arizona and New Mexico. Heads Up Decoy can prove to be a vital part to success in the desert SW.
Tyler Wilson from Carlsbab, NM has been using Heads Up Decoy for several years now. He has generously offered a story of is buck he took a couple years back with the H.U.D Mule Deer Buck Decoy. For his story, Tyler will receive a Heads Up Decoy prize pack. For more information about Heads Up Decoy or to purchase any of our mobile decoy products visit
www.headsupdecoy.com
Here is Tyler's Story
Well year after year looking on social media I would always see Patrick Montgomery and his clients kill big deer year in and year out!!! Not just a few good deer but everyone was killing a trophy. Finally, I had to call him up and see what the big secret was and really see if the HUD was really the big deal. Since it was in all the pictures he had posted. Like most guys like Patrick he didn't mind one bit to share some details about the HUD. I reached out to Heads Up Decoy to ask about the big hype.
Early December we finally found a couple bucks that were on the buck-it-list. One of which being a deer that we nicknamed high tine which some other hunter would harvest in January that scored in the high 180s. Not knowing this buck was going to be taken we patterned this deer as much as possible but with this hunt being in rut we knew he would be somewhere in the area with all the doe. 3 weeks out I finally said what the heck lets buy some Head up decoys (mule deer buck). So, we each bought one. When I finally received my HUD in the mail I couldn't wait until January 1 to see if this crazy product was going to WORK??!!!! Well to my surprise the HUD was awesome. I watched a decent 8 point that we had seen a couple times scouting about 400yrds off the road heck I'll give it a try and see if I could lure him in. within minutes the buck b-lined it to me. Would have been an easy 25 yard shot if it was the 1
st
.
The day before the hunt we decided we were going to stay the night out in the area we were watching all the bucks. After hours and hours of looking through the binos I finally spotted some doe in a thick catclaw brush line. Not knowing if there was a buck with them I decided to walk out to them with the HUD and see what would happen knowing these deer were in full rut now. After getting to about 70 yards they started getting up and stomping the ground and bam the big boy stood straight up and started coming right at me...why couldn't this be opening morning. Finally, after 20 minutes of a stare -down he took his doe to a piece of private property. Bad mistake on my part.
January 1stfinally came and a txt 4 hrs. in the hunt saying he was dead! Well not letting it get to me I hunted my butt off knowing there was still the drop-tine buck and a wide chocolate colored 4 point that I would kill if I had the chance. I let my buddy sit in the hot seat for a few days just to make sure a bigger buck hadn't moved in the area. Day 7….2 days before my anniversary I had to get it done!
Tyler Wilson with a great NM Muledeer buck!
Every hunter seemed to be hunting the same area by now it seemed. Keeping my head up I kept glassing and searching finally an ear tip moved in a big mesquite. Now or never I picked the HUD up and went to stalking. 2 hours later I was 50 yards. What the heck I thought let's see what this buck would do if I started to just walk to him with the decoy. 30..25…. 20..no way I thought finally at 12 yards'...yea 12 yards...I ranged him I had to let the arrow fly!!!! AIM SMALL MISS SMALL he went 20yrds and did the dirty dance. The big 4 point was mine and my tag was notched.
The HEADS-UP DECOY did its work!! My buddy ended up killing a good 10 point because of the HUD as well. I can't wait until this coming month I have a TAG, A Giant Found plus some other that I would gladly notch my tag on and I HAVE MY HEADS-UP DECOY READY!!! Thank you, Garret Roe, and the HUD TEAM!