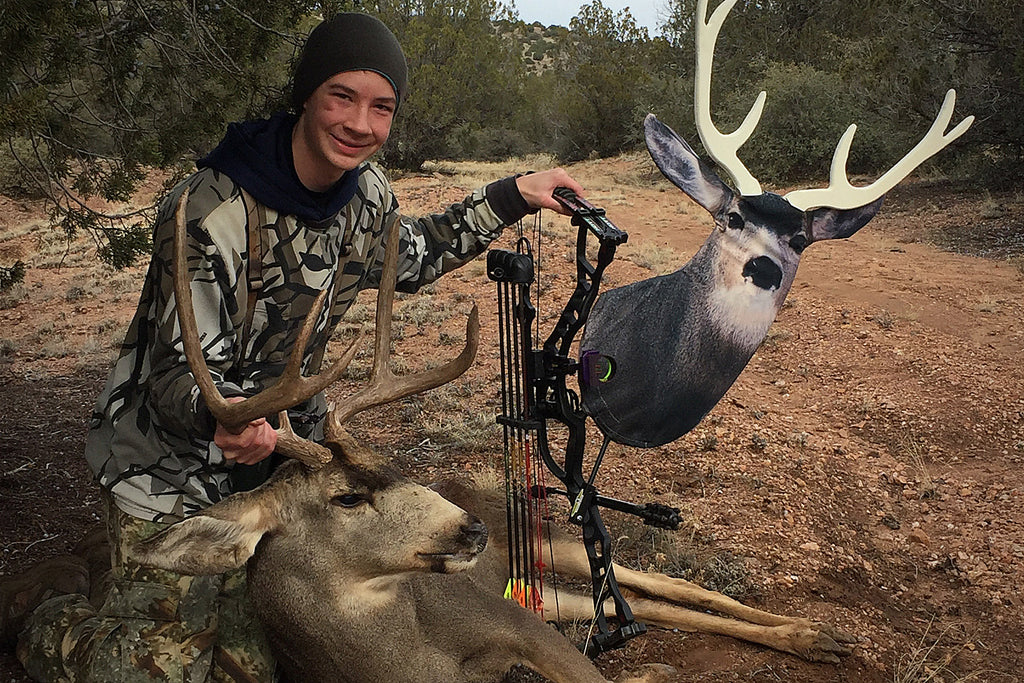 Heads Up Decoy has not only been a game changer for our plains mule deer, bowhunters in the southwest have been reaping the same benefits on their desert mule deer. Here is Toby and Cameron's story of their great desert mule deer bowhunt.
Father and Son Late Season Mule Deer Success in Arizona
 Story by Toby Archer
With a last name like "Archer", it comes as no surprise that bowhunting is wired into one's DNA. Toby Archer of Colorado is no stranger to success when it comes to hunting big game species with archery equipment. One of his noteworthy accomplishments is what is known as "The Big 8" on his home turf which entailed harvesting an elk, mule deer, whitetail, antelope, black bear, bighorn sheep, mountain goat and mountain lion… when he was just 28 years old. Very impressive, to say the least.
Fast forward to present day, Toby's current hunting strategy has evolved to pursue animals from more of an interactive aspect which involves calling and decoying tactics from the ground. The size of the antlers means nothing to him, (although he has killed a 400-inch bull elk) it's the experience and the chess match he is after, especially while hunting with his son, Cameron.
Annual January Hunting Trip
A new year means one thing to Toby and his son; an annual seven-day hunting trip to bow hunt mule deer and javelina in Arizona. On the first couple days of their 2017 hunt, they were scouting and putting miles on the truck when they stopped by a farmhouse. After a few minutes of conversation with the farmer, he notified them of two big bucks that crossed the road about a half-mile down earlier in the morning. Knowing that the chances were slim with archery equipment, they grabbed the Heads Up Mule Deer Buck and Doe Decoy to increase the odds of getting a crack at one of the deer.
They parked the truck and begun slowing moving down the draw the bucks crossed into and within a few hundred yards, they spotted one of the deer off in the distance. With the wind in their favor and a mule deer buck decoy attached to his bow, Cameron set up in a small pocket of brush while Toby hung back 15-yards and clipped a mule deer doe decoy to a bush. It was a textbook calling setup so Toby began crashing the horns and raking branches as an attempt to draw the deer closer for a shot.
After a few minutes of making a ruckus, they caught movement to their immediate right. To their disbelief, one of the bucks had slipped to within four yards and was raking the other side of the bushes they were set up next to. Not wanting to move, the buck finally came searching for his opponent and circled in front of them at only eight yards. As he cleared the bushes, he locked eyes with the Heads Up Decoy, which distracted him from Cameron's movement as he drew his bow. With the big muley at eye level, Cameron let an arrow fly and buried the fletchings into the chest of the heavy buck at close range! 80 yards and 30 seconds later, an Arizona mule deer buck laid dead.
The Secrets of Success
Toby is a firm believer that if you are able to fool two of an animal's senses, the odds of closing the deal increase tremendously. As illustrated with him and his son's mule deer hunt, Toby created a realistic visual by using a buck and doe decoy combined with the commotion of rattling antlers. Mule deer are curious animals and will investigate a potential threat or encounter if the setup is right. Furthermore, Toby is not afraid to get aggressive and is always amazed at the amount of movement you can get away with while using a portable, lightweight decoy.