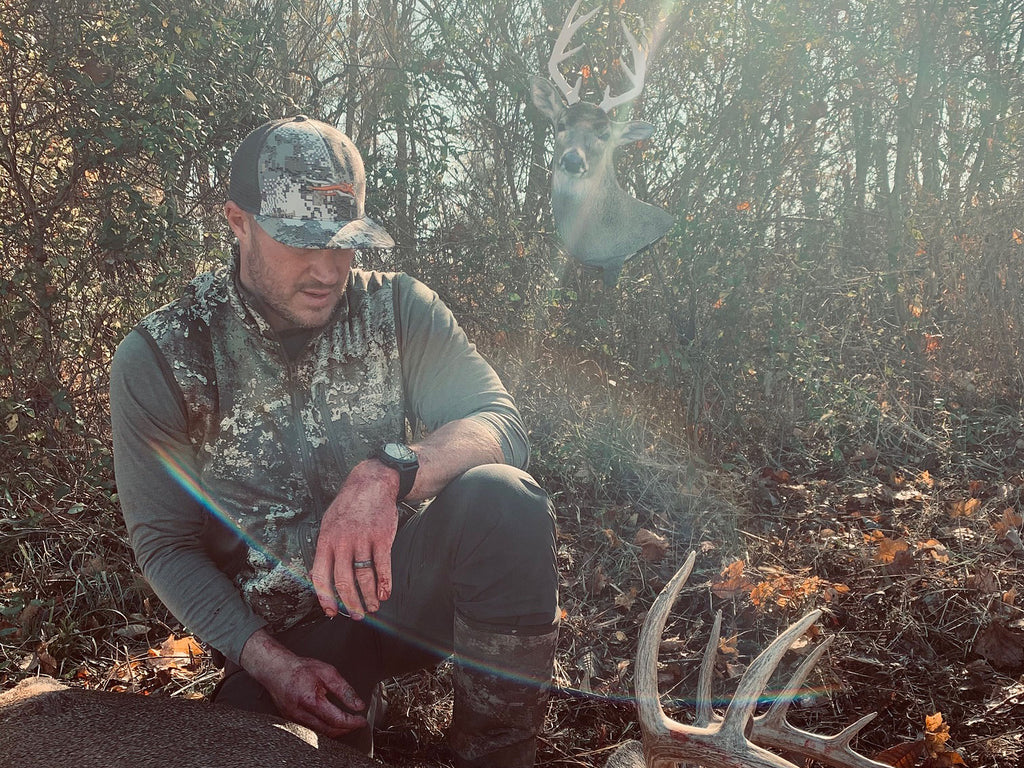 Authored by Drew Garretson | Southern Indiana
In Southern Indiana where I hunt, it has rolling terrain with many agriculture fields. Inter-mixed is scattered blocks of timber and draws. With the expanse of the large ag fields and the scattered blocks of timber and draws often used for bedding, I find that hunting over decoys is a great strategy because it can pull those curious and bigger bucks into bow range as they move from bedding to food.
In general, I like to hunt aggressive, partly because I am not the most patient bowhunter. Rather than wait for a deer to walk past me, I like to use calling and decoying to get the attention of those traveling out of range bucks. I have a son, Avery. When he is tagging along, calling and rattling is a great and fun way to introduce him to bowhunting and it's very interactive.

It was November 11th, 2020. I took my son Avery (age 9 at the time) out for an evening sit over a cut soybean field along a major travel corridor between thick bedding and the food source. We clamped the Heads Up Whitetail Buck Decoy to some fallen down trees just below our 2 person ladder stand. Once we got set up, I let Avery run the rattling horns on a blind rattle. Nothing responded.
Blowing into our face, the wind was perfect for where I suspected the bucks to be traveling...and the golden hour was approaching. It wasn't long before we saw some movement. From our right and as predicted, a shooter buck came out of the draw below us. He was traveling along an old gas line. The bucks love to use it because of the very thick cover.
Once at the edge of the old gas line and ready to leave the security of the heavy cover, the buck appeared as if he was going to head straight across the field presenting no shot opportunity. Avery grunted once, the buck turned to look and immediately saw the Heads Up Decoy. Locked into the decoy, he started heading our way. He closed 100 yards in just a few moments. As he got closer, the buck bristled his hair, postured up, and started side stepping. What a show!!! At 25 yards, he presented a quartering to shot. I settled my pin and let the arrow loose. I hit him high but through both lungs, he ran back where he came from and crashed into a ditch bank.
Since that hunt, my son asks every single time we go out if we can take our Heads Up Decoy. He is hooked!!