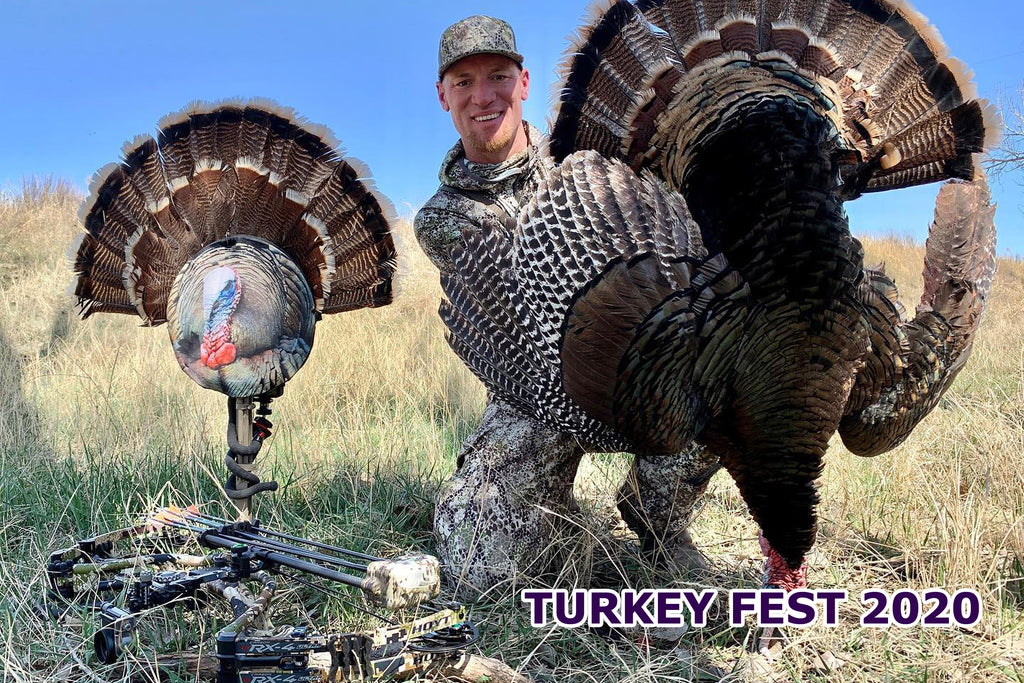 Short turkey hunting stories up close and personal accounts hunting with Heads Up Decoy sprinkle in some how to, how we did it, or why we did it: Our platform to show the weekly progress of turkey season around the country. We know times are not great and social distancing is a new thing. Don't let it get you down. This is a great time to spend with family or spend it alone in the outdoors hunting wild turkeys with Heads Up Decoy.
Click Here to Join our Turkey Fest Facebook Group: Turkey Fest
Click Here to Order Now: Heads Up Strutting Turkey Decoy
Saturday Morning Double-Auther Pete Gile
There's just something about wild turkeys gobbling in the spring that's infectious.  From the first few gobbles I experienced as a young hunter by my father's side, to the thousands I've heard since, it's a sound I've never tired of.  What a unique avian vocalization!  In my personal opinion, the sound ranks a close second to the bugle of a rutting bull elk in the fall.
While the sound of a gobble itself is infectious, the thing that can really hook hunters, old and young alike, is to hear the gobbler answer a call several hundred yards away and subsequently calling him in and observe him strut into the effective range of your weapon.
As a father of two young boys, Bridger, who's 10 years old, and Ryder, who's 7, I'm constantly looking for ways to get them off of their iPads and Playstations, and into the outdoors with me.  Obviously at those ages, long attention spans are in short supply.  When the gobbling is slow, youngsters can quickly lose interest…However, when you finally get on a hot bird and call him into shotgun range offering a youngster an easy opportunity for an ethical harvest, you've just created a turkey hunter for life. 
This finally occurred for me and my boys on Saturday, April 24th, 2020.  After several unsuccessful hunts with Bridger, I could tell it was getting harder and harder to convince him to camo up and head out with me.  On this particular Saturday morning, we opted to sleep in and head out for a mid-morning hunt with Ryder and my 69 year old father in tow.
We'd been seeing a few birds on some family property for a few days and decided to give it a go.  The plan was for Bridger and I to use some generous terrain features to sneak into a pre-place ground blind and try to get a bird to answer.  My Dad and Ryder would hang back a couple hundred yards in-case a blind shy bird tried to sneak in behind us.
Once Bridger and I were comfortably situated in the blind I began with some soft purrs and yelps progressing into my regular calling sequence.  After the second group of medium volume yelps, two gobblers answered us from about 100 yards away in a wheat field.  Soon the two mature strutters silhouetted themselves as they came over a small rise, answering almost every call I put their way.  Without any decoys in place, I was surprised when they quickly made their way to less than 10 yards of our blind.  Bridger took aim with his youth model 20 gauge and within a minute of first seeing the two toms he had his first spring turkey harvest under his belt.  We were both ecstatic and much hugging, huge smiles and celebration ensued.
As many experienced turkey hunters have probably witnessed, after the initially shock of the shotgun blast, the second tom remained close by and soon was standing on the carcass of the downed bird and pecking away at him, unaware of what had done in his previously healthy buddy.  For several minutes we just watched nature unfold in front of us and enjoyed the experience.  This second tom was so preoccupied harassing his downed partner I began to wonder if it my be possible to sneak my younger boy Ryder into the blind for an attempt at the other tom.
I began looking behind the blind to try to get my Dad's attention to give him hand motions to see if they could use the terrain as cover and have Ryder crawl into the blind.
After a few more minutes, all with this second tom still 25 yards in front of us, I saw my Dad and Ryder nonchalantly walking our direction in clear view of the bird.  After hearing Bridger's shot and giving it a few minutes they figured all the action was over and simply began walking our way.
Well, the second tom quickly saw them ironically about the same time they saw him and quickly my Dad and Ryder dropped to their knees as the bird gave a few warning putts and slowly walked north out of site.  I finally had my Dad's attention and gave him hand signals out of the back of the blind to crawl our way with Ryder using the blind itself as cover from the bird now approximately 100 yards away from us, but still gobbling at every call I made.
Soon Ryder was safely in the blind with us as my Dad sat outside of and behind it, using it as cover.  I kept calling, and he kept answering, but with the human figure he'd just seen, he was too wary of the situation to waltz back into his previously deceased buddy's location.  However, we soon heard 2 more gobbles to the west of our location as two young jakes appeared on the skyline about 150 yards away.  By this time the tom had reappeared in the field but wasn't budging from the terrace he was strutting on well out of shotgun range, even though both he and the Jake's were still gobbling at almost every call I sent their way.
My Dad then suggested that I hand him my Heads Up Decoy under the blind and he'd try to show it around the edge of the blind to see if it got any sort of reaction from the hung-up birds.  A "reaction" was an understatement.
As soon as he held the Heads Up Decoy around the edge of the blind, the 2 jakes started coming on a dead run.  The tom, not wanting to allow these 2 young birds to get to the party before he did, also turned to come our way, and the race was on.
Within seconds, Ryder had the bead of his shotgun drawn down on the old gobbler's head at 15 yards and squeezed off a round.
And there it was!  Two mature toms on the ground in less than 15 minutes; two spring youth turkey tags filled; and two young hunters, hooked for life!
Alex S: "Pretty sweet experience this morning turkey hunting to say the least. I was able to stock in on this Tom mid morning after watching him go into some woods. Snuck in close and used my @headsupdecoy to lure him back out. A few clutchs and he came on a string ready to battle it out. Ended up shooting him at 11 yards, @ironwilloutfitters broadheads did the trick. It was an absolute blast definitely recommended if anyone is looking for a different way to hunt these thunder chickens. 20lbs, 9" beard, 3/4" spurs."
Jed S. getting it done this morning at less then ten steps on film. What a great hunt!
I shot this turkey at 6 or 7 yards. I closed the gap from 450 yards to about 150 yards. Gave a few calls showed the decoy and the rest is history. I had the decoy mounted to my 1976 Bear Kodiak Magnum.
BowOnlyOutdoors laying down some sweet turkey hunting footage. Heads Up Decoy finishes the trifecta for them. Great video guys! Like and subscribe to their channel!
We had a nice Eastern come in to the HUD & put on a show this morning! My 7yr old son laid the hammer down & harvested his first ever turkey! Get yourself a HUD!
Korey P: Gf put this bird down on public ground! 3 Jakes, 1 hen, and this tom came running in to about 20 yards ready to fight the hud! Korey makes some sweet braided bow slings, turkey harness, and lanyards. Find him on Instagram at @kpfann84
 — with Sydney Winston.
Heads Up Turkey Decoy Why we make them the way we do: One of the many reasons were are so dead set on making our decoys where you use your own fan is in this picture below. See how the sun lights up the real turkey fan. You cannot replicate this synthetically. On this set up, we had 3 long beards across the road and we needed to pull them across it. We would never try to up-sell anyone, because 99% of the time one Heads Up Turkey Decoy is all you need. But in this case, having multiple decoys out was the approach. We staked one in the ground and fanned with the other. The one staked in the ground is in the background. We thought this would generate enough attention to pull them across the road...and it obviously worked. Could we have done it with one...definately, but this was just our mindset going in. But, as you can see, the real fan looks amazing in the full sun. This is the image the gobblers, couple with the fanning with the other decoy, were seeing 200 yards away...and they came in on a string!
Christopher W set this to us last night! "Harvested my first bow kill turkey here in Mississippi with the Turkey HeadsUp Decoy.
He strutted in to 7 steps!"
Matt S! Looks like we have some video? Great Birds! Congrats
TIP: We snapped this selfie a couple years back of a hen just hanging out with us. When hens approach, don't worry about spooking them. Sometimes they will walk completely around you with no fear. Focus on the tom if she has one with her.
Justin Davis says: "Heads Up Decoy is by far the funnest way to hunt turkeys for me. Crazy how fast those birds can rush up in your face looking for a fight. They always rattle my cage." #headsupdecoy
Wow! It simply does not get any better than this. Lincoln uses the Heads Up Strutting Tom Decoy in a traditional blind set up and simply whacks a big tom. Best part is his 4 yr old boy was sitting shotgun watching the whole thing go down. Memories!!!!
Jason purchased his decoy at the Kansas Monster Buck Classic and made quick work on a great bird. Now you can replace that fan bro!
Big toms, big spurs, bit cats...ain't nuthin but a thang for Levi! Great bird! Awesome spurs! Heck of a fish! You are in a #zone buddy!
Don't let that sweet face fool you. She's a stone cold killa! Brad sat with his daughter. Had the decoy out in the ground stake which is sold with every decoy. He fooled this gobbler in and she let the hammer down!
"Was in a hurry getting Trevyn out to hunt tonight after working later than planned. Didn't realize we put the fan in the decoy backwards till we snapped the pic after the recovery. You can mess up and the damn thing still works! Thanks guys awesome product!!"
Matt and his son are having another great year: Matt says: "I'm certain I've spent more time driving to hunt then hunting. This bird dropped 10 yards from this picnic table so figured what the hell haven't done this pic before. But the highlight for sure of the day was messing around with Strantyn and ending up having two long beards inside 5 yards for a pretty good chunk of time. Little mans eyes were about to bug out of his head when then they both sounded off at no more then three steps. When I mentioned not having my phone again to record it he looked at me and said trust me I'll never forget that one. Mission accomplished..."
*
*
*#headsupdecoy #ateyelevel #bemobile #bedeadly #bowkillturkey #turkeydecoy
Tanner R lays the carbon down on this great bird up close and personal. Dekes the entire flock basically with the Heads Up Turkey Decoy mounted to his bow. Notice how easy Tanner draws his bow and takes his time. It's easy to get in a rush...try not to. Great video Tanner and thanks for sharing.
Quick and easy. A short video on how easy it is to have the Heads Up Decoy bow mountable.
Kansas Youth Season 2020:Jenna S and her dad fan in a great bird. This is Jenna's first turkey. She's just getting into hunting. There are not a lot of things cooler than shooting your first turkey...unless your first turkey has 2 beards!!!
April 3rd
Good friend Travis Glassman capitalizes on an opening day archery season opportunity! The Kansas archery opener didn't disappoint. The @headsupdecoy covered me as I slipped in to only 20 yards of this beautiful tom. God is good! Thanks to my unselfish wife Kendra Glassman for putting up with my addiction! I love you! | #hoyttaggedout #hoytbowhunting #turkeyhunting #kansas #taggedout #outdoors #hunting #headsupdecoy #victoryarchery #onxhunt #stokerizedstrong #grimreaperbroadheads #cbesights #badlandsgear #germanprecisionoptics #redwrx