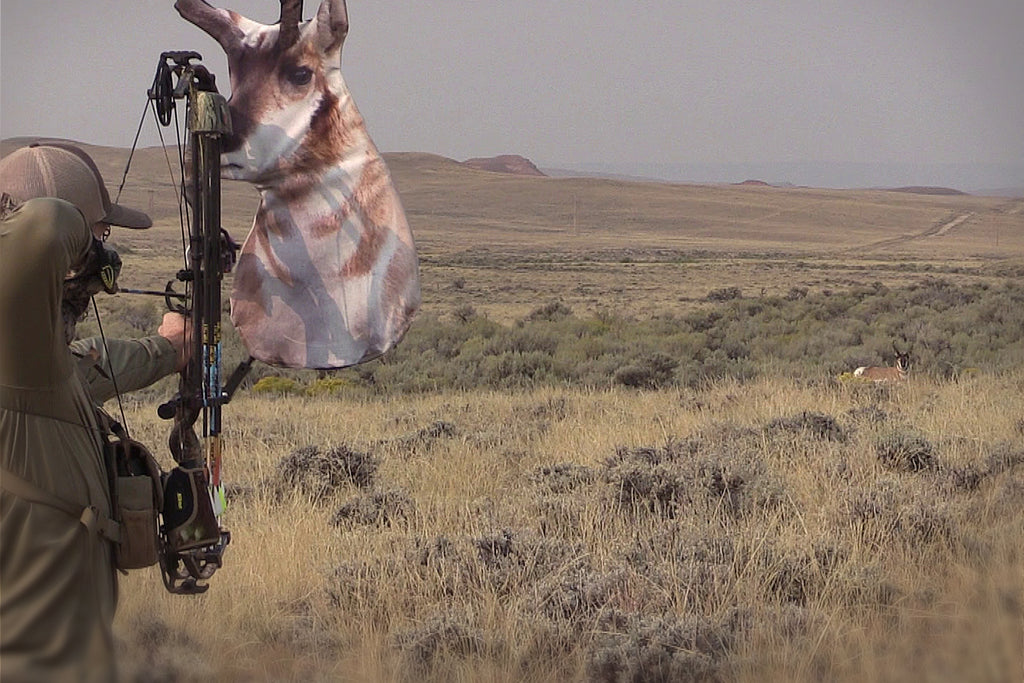 Anyone bowhunting antelope spot and stalk can attest to the challenges of getting into bow range. It has been a bit of a frustration over the years for myself. I have never hunted antelope in a true western state where pronghorn thrive. All my experience has been bowhunting the highly pressured Kansas pronghorn.
I had been purchasing preference points for Wyoming for several years. The points have been a bit of a distraction honestly. When was I going to pull the trigger and what unit was I after? My love/hate relationship with elk hunting has always trumped antelope, but I had made up my mind after tagging an elk in AZ in 2016...2017 was the year to do it.
Calculating my number of points, I pulled the trigger and applied for the best unit I could draw with the amount of points I had and the unit that had the most possible public land available for Wyoming pronghorn antelope. As expected, I drew a tag.
A good friend of mine, Zach McClain, with ShadowMOutdoors had hunted the unit the previous year and said it set up perfect for Heads Up Decoy. Zach and his friends are like most Wyoming residents...kill antelope early so it doesn't interfere with elk season. Zach has had GREAT success over the years with Heads Up Decoy and particularly with antelope. He hunts in August...decoying in August is a bit of a myth...but Zach has had great charges and encounters in this part of the season. I followed his advise and planned an early hunt for Labor Day Weekend. I also planned a for a more traditional hunt for later in September closer to the heart of the rut.
The first morning started off wide-eyed. I had never seen that many antelope in one area. We were out of the truck early and often. The sheer numbers, although great, were a double edge sword. Getting out to close in on a target buck often ended with spooking antelope that were not accounted for on the initial plan. Many stalks were over before they started.
The recipe for early season decoying was this: Find that bubble, and 100 yards seemed to be that threshold. Although Zach and his friends were having great success at farther distances, it seemed on this trip that 100 yards was that magic number.
Late afternoon on the first day, I dropped into a wash and used it to get below a good buck. As I crested the bank with the Heads Up Antelope Decoy in the bow mount front and center, the buck took no notice and continued to feed. Recognizing this opportunity, I closed the distance. As the buck would raise his head or turn his body in my direction, I would settle on to my knees making sure the Heads Up Decoy was the first thing he saw if visual contact would be made. Closing into approximately 100 yards, the buck finally recognized an intruder and began to close. With every step closer, my heart sped up. The buck was soon standing inside of 50 yards facing dead on to me. There was no shot. Being patient, the buck started angling to my left presenting a perfect broadside shot at 50 yards. I drew back, settled my pin on his chest. The buck did not flinch. When my arrow sailed harmlessly in front of his chest, the buck sped up the hill and was gone. Not really dejected, I found my arrow and headed back to the truck. There was going to be plenty more opportunities.
The second day of the hunt was just like the first. Multiple blown stalks with one miss at the end. The buck had closed to 40 before his doe decided to blow out of the area taking him to 60. Again, my arrow missed it's mark. BUT, the stage was set. We knew what to look for and how to get the antelope to close the distance to the decoy.
We were blessed with great weather. Day three was a picture perfect day. As Zach and I cruised and winded down the roads weaving through the vast expanse of public land, we happened upon a perfect set up, a bedded lone buck. As we drove passed the buck, we quickly assessed our situation. There was a gradual slope down wind of the buck's position. All we needed was a place to hide the truck. As luck would have it, we were able to easily hide the truck and make our move. It was a quiet morning and as many may already know, sage, rocks, and cactus do not make for quiet and easy stalking.
Having good landmarks is key to any stalk and proved valuable on this one. Having the antelope decoy in the bow mount and an arrow nocked, I ascended up the slope towards our mark. Cresting the hill, the buck immediately detected our presence. I was watching my steps at the time. Looking up seeing the buck on his feet took me by surprise. He was close and peering right at us. With some nerves setting in, it was difficult to get a range on him. I turned and took a deep breath to calm my nerves and to focus. I was able to get a range. The buck was beyond 50 yards. He had taken several steps in our direction, but present no shot. Next range was 45 yards. It was a staring match. The buck began to angle towards me and I was able to draw my bow and easily settle my pin when he was broadside. When my arrow made impact, it was not ideal, but it did its job and my first Wyoming antelope was in the books.
This was a great adventure. Awesome country. Great friends. I thought to myself before the hunt that I would never return...wrong. It was a great time. Spot and stalk antelope are difficult, but worth the effort. I will return and I will be there with Heads Up Decoy.
Special thanks to Zach McClain with ShadowMoutdoors. ShadowM is a small outdoor production company. Zach films all his hunts as well as most of his friends and family. He is an incredible bowhunter. I thoroughly enjoyed his company and I look forward to our next adventure.