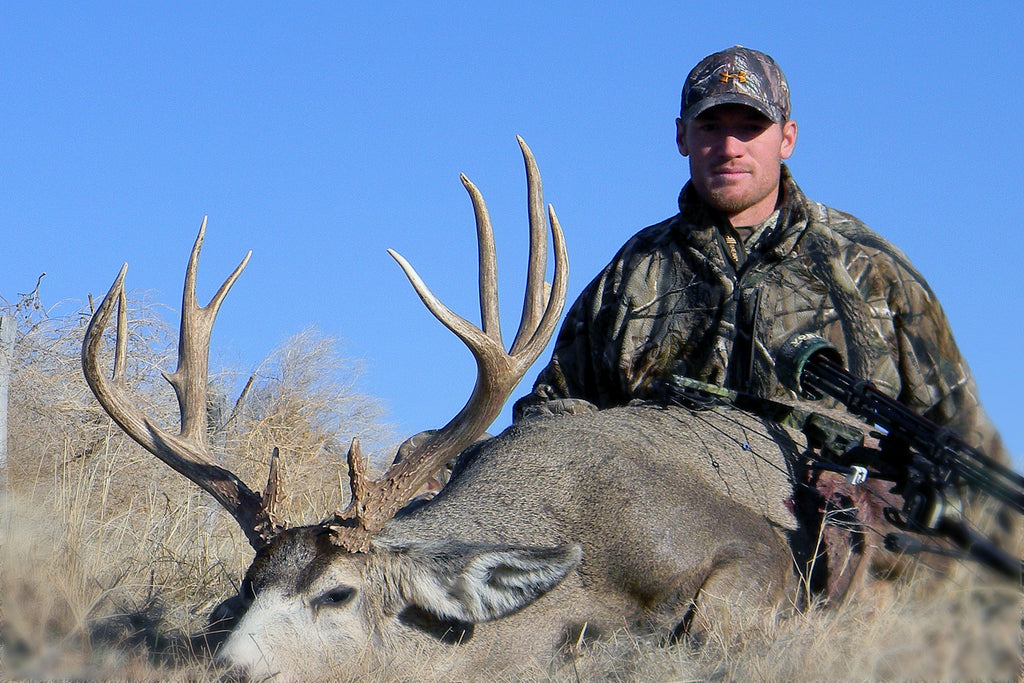 It was Thanksgiving weekend 2011 and I was staring out the window watching the 30 mile per hour wind flex the trees.  I planned to sit in my tree stand that morning, but the high winds were the determining factor to keep me inside with the family.  I was scrolling through my weather apps trying to figure out the best plan for my afternoon hunt, when my phone rang.  My buddy Doug was calling to inform me that he had located a bachelor group of mule deer bucks in a weedy fence row adjacent to a CRP field.  "I think we can sneak in on these guys" Doug stated as I listened intently.  It didn't take much to convince me to load my gear and take off to meet up with Doug.    
As I pulled up behind Doug on the lonely Kansas back road, he stepped out to greet me, pointing in the general location of the bucks. I hurriedly got geared up as he explained the situation.  The wind was hitting us hard in the face at 30 mph and it was cold, and I questioned what the heck we were doing out in such conditions.  It was not going to be an issue keeping the deer from hearing or smelling us.  However, I was concerned about how my arrow flight would react to the erratic winds.  All reservations aside, we bundled up and headed north along the west edge of the wooly CRP field.
I had my Hoyt and Doug was toting the Heads up Decoy mule deer doe as we easily covered the first quarter of a mile.  When we approached the final three hundred yards, we noticed that we were going to be sky lined so we hit the ground to gather our thoughts.  We glassed through the tall grass to try to locate the bucks, and found them bedded on the south side of the weed filled fence line.  They had the perfect vantage point with the wind at their backs as they stared in our direction.  Luckily, there was a natural drainage that led us out into the prairie grass toward the bedded bucks.  We shuffled on our bellies through the crunchy wild sunflowers making our way through the drainage.  As we neared the bucks we came to a grass flat where the cover started to dissipate. 
 We laid face down in the grass one hundred-fifty yards away from the bucks.  We were at a stalemate and couldn't move any closer without being spotted.  In my past experience, this is where I would have forced the stalk, most likely spooking the deer onto a neighboring property where I didn't have permission.  I explained to Doug that we needed to try another route to attempt to get closer, but he calmly prompted me to sit back and stay patient.  Having no experience with the Heads up Decoy I definitely had reservations about Doug's game plan.  Keep in mind, the wind was blowing over thirty miles per hour and he was going to try to hold a silhouette decoy up for the deer to see.  I decided to fade back against some cover in the small chance that his plan would actually work.  I was only five yards behind Doug as he raised the decoy into the gale force winds, but there was no apparent reaction from the bedded bucks.  The bucks were nestled in to their beds and it seemed that they were quite content.  I was getting impatient because I was the type of bow hunter that needed to make something happen, and if it didn't work out oh well, on to the next stalk.  
At this point my eyes were opened to a whole new world of hunting during the rut.  The bucks finally stood to stretch after about an hour of patiently waiting.  I'm sure Doug's arms were getting fatigued from holding the decoy above his head for the majority of that hour, but it seemed to have done some good because here they came.  There were two bucks, and one was a no doubt shooter.  They were taking their time, but they were definitely keyed in on the lonely mule deer doe decoy.  As the bucks briefly dropped out of sight, I positioned for a potential shot.  When they reappeared I noticed that the mature buck was lagging behind the more excited young buck who was forty yards out and closing quickly.  I remember feeling extremely exposed as my cover no longer felt sufficient to hide my silhouette, but to my dismay the bucks paid no attention to me or Doug as they approached within five yards of the Heads up Decoy!  As Doug laid on his belly holding the decoy, he could literally hear the deer breathing on top of him.  I slowly drew my bow and waited for the mature buck to present the shot.  As the monster muley stood over Doug to scent check the decoy, I knew it was now or never and let the arrow fly.  The arrow found its mark and the buck bounded off and expired within seconds.  Adrenaline had set in for both Doug and I.  I had just shot a 190" mule deer at only ten yards!
 In conclusion, I'd like to mention the main point that opened my eyes to the effectiveness of the Heads up Decoy.  I couldn't believe how well the deer focused their attention on the decoy oblivious of the two hunters laying in the weeds.  It was like we were invisible and the bucks had tunnel vision on the decoy which allowed me to raise up, draw my bow and take the shot at only ten yards without the deer even looking my direction.   I learned several lessons from this hunt.  First, I learned that patience is your most powerful tool when decoying bucks in the rut.  Often times you will see results very quickly, but you will likely run into scenarios that require some patience so don't give up easily.  Doug had a very insightful analogy I'd like to share.  He stated, "I compare it to a single woman coming in to a club.  It may not happen immediately, but at some point in the evening, I'm going to make my way over to have a chat with her".  This couldn't be more spot on.  Secondly, I learned that when hunting with a partner, positioning the shooter to the downwind side of the decoy will allow for a better shot opportunity in most cases.  A buck will oftentimes circle to approach the decoy with the wind in his face.  Lastly, I learned to never be too proud to try someone else's strategies and tips.   Hunters seem to gravitate to the strategies that have worked best for us, and sometimes neglect other tactics that could work better.  This was the case in my hunt with Doug. I am so glad that I didn't doubt his abilities when he took the reins on this hunt.  I owe Doug a great deal of gratitude for bringing me along and showing me the most effective rut hunting strategy I've ever experienced. Since that first hunt I have successfully decoyed in multiple mule deer and whitetails with great success.