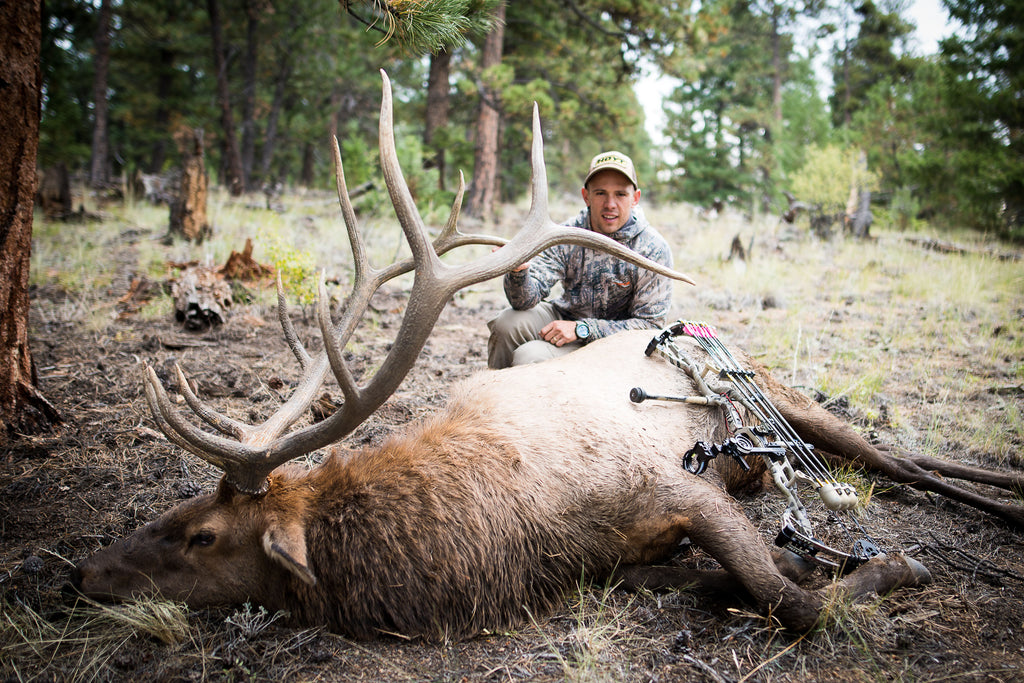 Flashing the Heads Up Cow Elk Decoy is a very good technique when you find yourself in the herd. No need to call or do anything drastic. Flash the decoy and allow the bull or cows to see the decoy and react. Author Justin Davis uses this technique to perfection on a great Colorado bull. Read his accounts below:
We moved down the ridge led only by our ears.  The recent weather had been hot and dry and elk bugles were non existent.  But at this moment things have changed as we moved in the direction of a bugling bull.  We closed the gap running into a satellite bull in the process. We eased over a small hill and soon found ourselves right in the herd of cows and a big Colorado 6 x 6 bull. The hill had muffled the bulls bugles so he sounded further away than he really was.  Caught out in the open with limited cover except for some small regen trees, we quickly popped up the Heads Up Cow Elk Decoy before anything saw us.  The herd fed in our direction with the bull pushing and following the cows.  One cow lifted her head made eye contact with the decoy then put her head down continuing to feed as if to think we were just another cow.  In the process, we the herd bull also spotted.  Almost surprised as if one of his cows had gotten away from him the bull started coming right at us.  With an arrow nocked I readied my bow and prepared for a shot.  Just when the would-be encounter was about to hit kill time, we were interrupted when a raghorn bull made an appearance. The herd bull aggressively chased off the raghorn scattering the cows in the opposite direction.  As fast as it was about to happen, just like that the big bull was now out of range of us.  We put down the Heads Up Decoy and crouched down.
            After the herd bull was finished with the raghorn chase, he returned to the herd to account for all his cows. He came marching thru the herd in our direction.  He was coming for that cow he had seen up on the hill.  He walked into 50 yards and stared off to our right. Having no clue we were there, his eyes scanned past us for that cow he saw prior to the raghorn disruption.  He started to come closer moving in a path that would bring him past me for a nice broadside shot. As he passed by a large tree I drew my trusty Hoyt carbon bow.  As elk luck would have it, the bull did a 90 degree turn and started walking toward my left only presenting a hard quartering to shot.  He stopped and looked our direction peering through us wondering where that darn cow that he had seen had gone.  All this while I was holding at full draw, my arms were starting to fatigue.  Thankfully the bull looked back towards his cows and turned slightly offering me a broadside shot.
            The 30 yard pin was behind the bull's shoulder as I touched off the release.  My 450 grain arrow covered the ground quick striking the bull right where I wanted.  The bull trotted a short distance before tipping over.  It still never ceases to amaze me how quick big bull elk can die as a result of an arrow!
            In the end looking back on the situation, flashing the Heads Up Decoy paid off big time on this bull.  I can say with assurance that this bull came back looking for that cow decoy he had seen.  Because of the situation, calling wouldn't have been an option.  I would venture to guess that had I called, things might have gone another direction.  Anymore time and one of the cows feeding our direction would have most likely busted us with their keen sense of smell.  Decoys can be a very effective tactic when it comes to hunting elk.  Having a Heads Up Decoy in your arsenal of weapons can make the difference on whether or not you fill your elk tag.
Be sure to comment below and let us know if there is anything you would like to hear from us.
Follow us on Facebook: Click Here
Follow us on Instagram: Search Heads Up Decoy
Sign Up for our Newsletter: Click Here