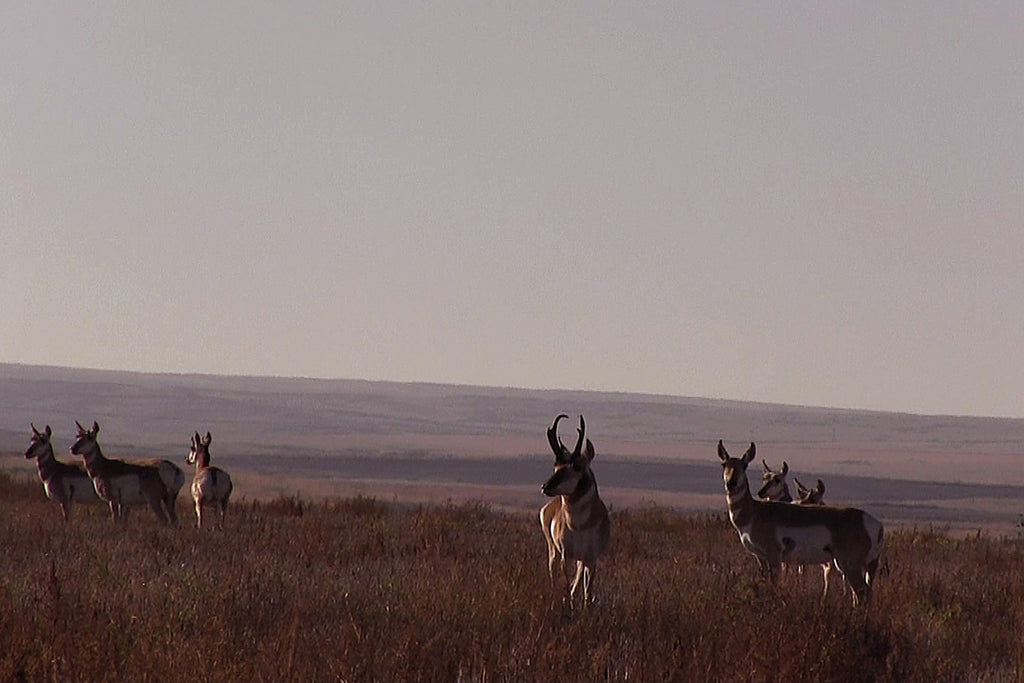 Pronghorn antelope hunting is one of the most challenging hunts for spot and stalk bowhunters. Here are some tips to increase your odds of success with a Heads Up Decoy.
The fall hunting season is nearing...or is upon us. Pronghorn antelope hunting usually kicks off the archery season and is one of the most challenging hunts for a spot and stalk bowhunter. There are several things to keep in mind on this adventure to help you be more successful with your Heads Up Decoy.
The Heads Up Antelope Buck Decoy has historically been one of our most popular decoys. Bowhunters easily associate spot and stalk antelope hunting with a decoy and the fact our decoy is bow mountable is a key feature of the product. The Bow Mount bracket can be used with all Heads Up Decoy styles and was specifically designed with the pronghorn decoy in mind. The Bow Mount is an aluminum bracket that works best when bolted to a stabilizer with a 5/16 thread at the end of the stabilizer. The stabilizers with these features are numerous. Many of the highest quality brands as well as some mid to low range stabilizer manufacturers possess this feature. A quality stabilizer is an investment in accuracy whether it's used in conjunction with a Heads Up Decoy or as part of your bow hunting rig.
Without to much discussion surrounding the Bow Mount, some key points are these:
Works with all Heads Up Decoy Styles...no need to buy one for each decoy
Is both right and left handed
Multi-directional mounting to the stabilizer allows for a custom fit
Can be secured to a Gadget Adapter for solid use with traditional archery equipment
Works best on the end of a stabilizer
Can be secured to the riser and between a stabilizer
Spot and Stalk Pronghorn Hunting Challenges:
There are few greater spot and stalk bowhunting challenges than pronghorn hunting. Over coming their vision and nervous nature will be your biggest challenges. If you have never hunted them, you will learn this quickly. So, hunting them off the "hard-pan" makes it nearly impossible with a bow and/or bow and decoy. There will be times that an aggressive antelope buck will charge from several hundred yards to drive off a spot and stalk bowhunter carrying an imitation intruder, but it is rare. If that is your only options, don't overlook it because it could work.
Obviously, looking for broken terrain with rolling hills and ditches along with various ground cover is your best opportunity to close undetected and get inside a bucks comfort zone before showing the decoy. If the hunting pressure is low, sometimes it's worth observing the behavior of the buck you are after. Is he aggressive? Is he passive? During the rut, harem masters will often be pestered by small satellite bucks we refer to as "toy bucks". If you find your target buck is aggressive, the odds of getting a shot using the Heads Up Decoy are really good. Try to figure out how close you need to be before that buck triggers and then wait for him to get in as good a position as possible before making your move.
Don't underestimate the physical demands of spot and stalk bowhunting. We are often reminded of the rigors of a backcountry elk hunt and the importance of physical conditioning. I would argue that spot and stalk antelope hunting is equally demanding. The only difference is there is usually an abundance of air verses that found in the high country. There have been many days my ass was dragging back to the truck on a long stalk or at the end of the day with multiple stalks. Food, water, and a solid core will help you get through it.
Short comments:
Any antelope shot with a bow is a trophy.
Antelope can smell...not as good as deer species, but pay attention to wind direction as well.
Using the Heads Up Antelope Decoy:
For a spot and stalk bowhunter, I recommend using the Antelope Decoy with the Bow Mount. Getting 2 people to 150 yards or even 100 yards is difficult without ideal stalking terrain and conditions. When the winds are howling, a two person set up can be beneficial: someone to hold the decoy and a shooter behind.
The decoy is more than an attractant. Use the decoy when you are several hundred yards away to help you get from "Point A" to "Point B" if required for a more ideal stalking set up. This will usually keep the animals from spooking, allowing you to approach from a better engagement point.
Inside of 200 yards is best, but if it is not feasible, show it when you are as close as you can get.
I think the magic spot for the decoy is in the 150-100 yard range. It has been my observation from using the Heads Up Decoys since we introduced them to the market that animals do not like to be surprised by a decoy. Certain circumstances may allow for you to use the decoy inside of 50 yards, but ideally for antelope I prefer to get around that 150-100 yard mark before presenting the decoy in a natural way with the hopes of enticing a buck to charge off his intruder or at the very least, close the distance for a shot.
Do not be afraid to use a challenge bugle. This can trigger a charge.
In the early years and continuing to the present with Heads Up Decoy, getting animals to point blank range has been done and is now expected. However, pronghorn have their own "point blank" range. I consider 20 and in to be point blank on anything other than pronghorn. I have asked many of the best bowhunters that I know, "What is your average shot distance on antelope?" Keep in mind this is purely spot and stalk. Few have been inside of 30 yards with the majority well beyond 40 yards. Don't be like I was and get greedy. 40 to 60 yards on an antelope is SUCCESS! So, make sure you are prepared. Practice those ranges and be proficient with and without the decoy in the bow mount.
Timing:
What time of the year is the best? For rutting activity when the harem masters are chasing off the "toy bucks", mid to late September seems to be the peak. However, I have seen some of the best rutting activity over Labor Day Weekend on scouting trips. Substantially better rutting activity than the 3rd week of September. I am not an expert on pronghorn, but whether it was establishing a pecking order or just plain harem gathering. I was much more impressed in early September than late. So, I would say let the animals dictate what's going on. Anytime in September would be a great time for another buck to attempt to drive off an intruder, but keep in mind that mid to late September is considered to be the best time for decoying rutting antelope.
To Purchase a Heads Up Decoy: Click Here
To Follow Us on Facebook: Click Here
To Follow Us on Instagram Search: Heads Up Decoy